Our cleaning systems are successfully installed all over the world!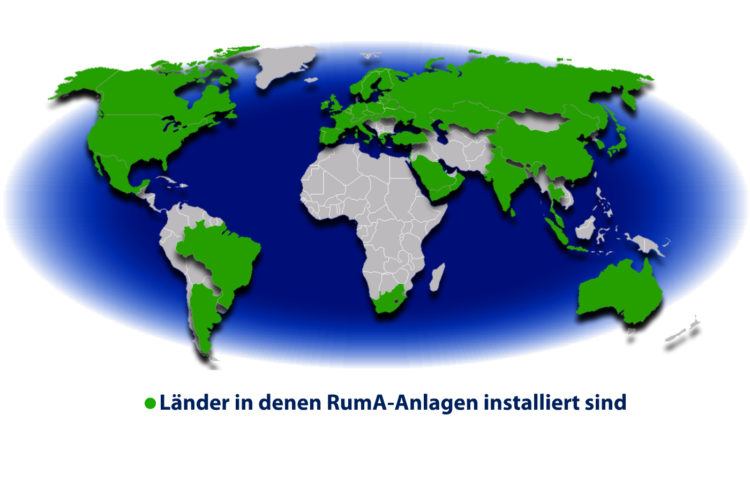 RumA cleaning plants benefit from decades of experience in the construction of centrifuges, in the reconditioning of coolant lubricants and of filtration technology. A highly motivated team with a treasure-house of experience and know-how plans and develops every installation specifically to the requirements of each individual customer.
RumA equipment is continuously being developed and the range of products extended. For us, innovative technologies are our daily business. Our product range embraces equipment from centrifuge technology through belt-filters, cartridge filters, gravel-bed and edge-filters right to cooling plants and special installations for particular customer applications.
RumA cleaning plants are successfully used all over the world and we take pride in being permitted to include many well-known names of industrial giants and medium-sized companies both at home and abroad as well as many craftmans businesses in our list of references.
We will be delighted to help you select the most suitable and economical cleaning system for your needs.
Just set us a challenge - we look forward to it!
Successful since over 20 years!
| | |
| --- | --- |
| 1995 | RumA Reinigungstechnik, Zentrifugen- und Anlagenbau GmbH was established in Hemmenhofen, Germany |
| 2001 | Construction of the 1000th cleaning system |
| 2003 | Relocation of our production to Niedereschach, Germany |
| 2006 | Construction of the 2000th cleaning system |
| 2007 | Extension of our production facilities |
| 2009 | Newly constructed building and relocation of our offices to Niedereschach, Germany |
| 2011 | Construction of the 3000th cleaning system |
| 2012 | Certification according to ISO 9001:2008 |
| 2017 | Newly constructed building and relocation of RumA Reinigungstechnik GmbH to our new location in Geisingen |